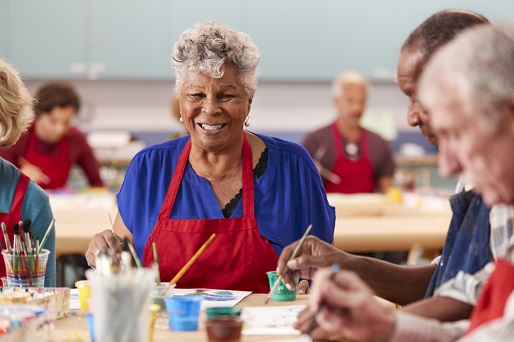 Social interactions can promote the mental, physical, and emotional health of senior citizens aging at home, reducing the risk of dementia, high blood pressure, chronic stress, and depression. As a home care agency in Oklahoma, here are a few strategies we recommend to help families encourage their elderly loved ones to socialize more:
Enroll Your Elderly Loved Ones in Senior Classes

There are many classes available that cater to seniors, providing them with many opportunities to meet new people and form social connections. Notable examples include senior exercise classes, adult day care, and hobby groups.

Consider Home Care Services

Home care providers offer non-medical services like companionship care to help seniors socialize more. Companion caregivers can spend time with seniors at home, share a hobby, take walks, play games, and more to prevent loneliness and social isolation.

Host Regular Family Gatherings

Another great way to cultivate social interactions for seniors is by helping them host regular family gatherings. Families can designate one day every week to get together with their elderly loved ones for dinner or to spend the day together.
We offer home health care in Tulsa, Oklahoma, to help seniors with their daily living activities and provide regular social interactions. For more information, call Devine Home Health Care Solutions at 918-829-1721.
Other services you could expect from us include medical social services, live-in care, caregiver relief, and many more.