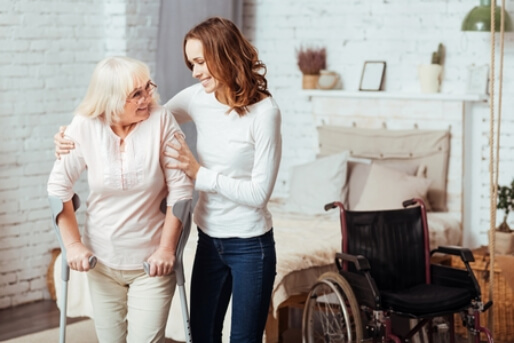 The risk of falling is high for seniors. But there's no need to worry as there are solutions that can give you peace of mind. Our team of home health care providers can see to it that your loved one will have this kind of protection from fall risks.
As a provider of Home Health Care in Tulsa, Oklahoma, we would like to share with you at least five ways that we can help reduce the risks of falls from your senior loved one.
Improve balance
Balance is a key factor why people can remain steady when they walk or stand. Growing kids learn this in time, while seniors can lose this if not addressed properly. Our team of licensed physical therapists can assist your senior loved one in exercise regimen so that they can improve their balance. This way, they can remain steady when they walk or stand.

Assistance in walking
When balancing is not an issue, the walking is. Some seniors develop bone weaknesses and joint pains that make it difficult for them to move from one point to another. But with some physical assistance, they can make it from their room to the restroom. Physical accompaniment can also empower them when they're doing physical exercises recommended by their physical therapist.

Assistance in medication intake
In some instances, non-adherence to medication can result in dizziness and fainting, which results in dangerous falls. This can be addressed with proper medication management. When you're not around to oversee this, staff from a Home Care Agency in Oklahoma can help ensure that your loved one is taking medication right on schedule.

Companionship to medical checkups
Outdoor appointments can also be a risk factor for falls. For this reason, your senior loved one needs someone to accompany them to their outdoor destinations such as their regular doctor's check-up. In addition, a home health care provider can also help your loved take note of their medication while at the same time ask questions for clarifications.

Assessing home safety
Providers of Skilled Nursing in Tulsa, Oklahoma can also administer home evaluation to verify if your home is safe enough for your senior loved one. If necessary, you must need to renovate the indoor setup of your abode so that it can be a safe living environment for your senior loved one. With housekeeping skills, our non-medical service can also help clear pathways at home so that your senior loved one will not trip on anything.
At Devine Home Health Care Solutions, you have your ally in preserving the overall safety and health of your senior loved one at home. Our staff team is highly qualified and licensed so that you can trust us to provide quality assistance to your loved one even when you're not around to witness it. Contact us about our services if you need to inquire.
Share this post with a loved one to pass on this helpful information.