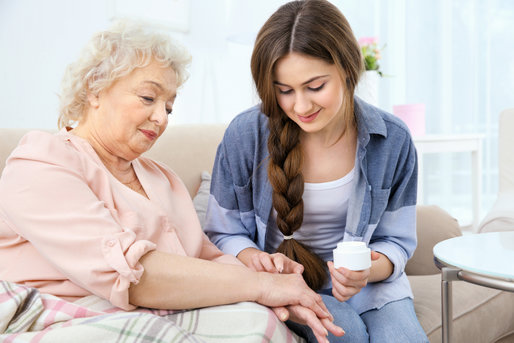 Skin elasticity tends to wear off as people age. Sometimes, skin problems are just developed along the way due to allergic reactions to food and the environment while some are inherently born with skin complications. Nevertheless, our home health care in Tulsa, Oklahoma is also capable of wound care procedures to help clients with skin problems that need careful attention.
If you sense that your senior loved one is experiencing certain skin conditions, our home care agency in Oklahoma suggests that you see your doctor as soon as possible. A number of skin problems may not necessarily heal with over-the-counter creams and lotions since they will need specific antiviral prescription medication to directly target the skin concern.
Rashes
Rashes are among the most common skin problems that both children and adults may go through every now and then. It can be caused by dirty surfaces and too much skin or clothing friction, among others. Dry, bare skin can easily bruise. Without any added layer of moisturization that creates a barrier between the skin and the surface, the skin becomes more susceptible to bacteria exposure. Thorough cleansing and washing plus a good skin care routine can keep rashes at bay.
Athlete's Foot
A fungal growth that thrives in warm and moist environments develops around the feet or even in other parts of the body. This is usually contracted when one comes in contact with fungus-contaminated surfaces such as common public floors or damp and wet environments in swimming areas or showers. If the condition is already severe and needs topical medication, any of our providers of skilled nursing in CA can easily help apply the prescribed medication to make it easier and worry-free for the client.
Psoriasis
This is a chronic skin disease that usually presents itself as red, itchy, scaly, and thickened patches on the skin and typically shows up around the elbows, scalp, hands, and lower back. This can also show up in other parts of the body. Depending on the severity of the psoriasis case, the doctor can base on family history and exposure to diagnose the condition.
Hives
These itchy skin bumps are commonly caused by allergic reactions to certain foods and drugs. Hives go away on their own depending on the immune system of an individual. If you think your case is more serious, always seek medical assistance.
Melanoma
This is a serious type of skin cancer that could potentially be life-threatening. Melanomas look like moles on the skin but may change or increase in diameter, size, or color. Talk to your doctor to know more about melanomas.
For different skin conditions, our Skilled Nursing professionals can readily perform minor wound care on clients. We will ultimately suggest that you see a physician to address the issue the soonest time possible.
With Devine Home Health Care Solutions, you can guarantee wound care and skilled nursing services for your loved one.